Ahh can you smell it? The crisp scent of freedom and American patriotism is in the air. This can only mean one thing—we are just days away from celebrating Independence Day! America's birthday has been welcomed for 237 years with unique traditions and this year, its 238th birthday won't be any different. But what are the most American ways to celebrate this holiday? These Independence Day traditions will make you shed a single red, white, and blue tear. Make sure you try some of these traditions (as if you haven't been doing them already) to ensure that you are celebrating 4th of July in the best way possible—the American way!
1. Fireworks
It is impossible to escape the awesomeness that is 4th of July fireworks! Whether you go to large gatherings for the firework display or catch it from your home, no independence day is complete without the ending fireworks that light the night with American glory. Don't forget the sparklers for the kids!
2. Food.
Three words: Bar-be-que. I can almost guarantee that the vast majority of Americans spend their holiday at either a picnic or a cookout because everyone knows that July 4th is synonymous with grilling. If you want to have the most American Independence Day, make sure you stuff your face with hotdogs, hamburgers, ribs, potato salad, watermelon, corn on the cob, and a lot of dessert and DO NOT go easy on the barbecue sauce.
3. More food!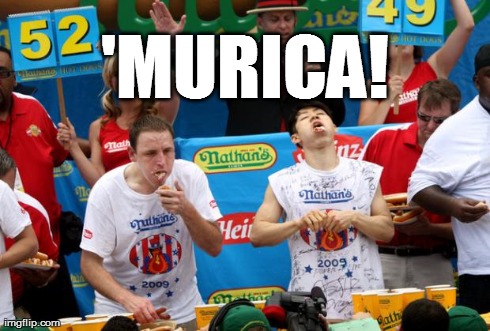 I wasn't kidding when I said stuff your face. The food on July 4th doesn't stop at friendly meals around the grill. The most American of all Americans know that the only true way to show your nation's pride is by seeing how many hotdogs you can eat in under one minute. The current record is 110 hotdogs in 10 minutes. So show how American you are by beating it!
4. Decorations!
America's birthday has become the second largest costume party after Halloween. The only difference is everyone's wearing the same outfit: red and white stripes and blue stars. And the outfits match the decorated atmosphere. No doubt you will encounter people dressed as Uncle Sam or one of our founding fathers. And if they aren't wearing that, they will be decked out head to toe in red, white and blue. This will go well with the banners, flowers, cakes and flags flying high from every establishment.
5. Baseball.
It wouldn't be Independence Day if it didn't include America's favorite pastime. It doesn't matter who you are, on July 4th, all of the most American Americans are baseball fans. Start brushing up on the sport now so you can impress all your less American friends with your knowledge of terminology like RBI and sac fly. And don't be alarmed if you get choked up at the singing of the national anthem and the air show at the start of the game.
How do you celebrate your independence day? Show us by tagging #July4thPBS this holiday weekend!
'Murica!
---
By Joche Angbazo | Station Products and Innovation Intern | PBS Digital
Joche is the one of the marketing and communications interns with the PBS Digital SPI Team who manages many of the social media accounts. She is a rising sophomore at University of Maryland, where she studies marketing. When Joche is not tweeting, pinning, or blogging, she spends a lot of her time window shopping, catching up with shows On Demand, or jamming out to the radio.